Feb 3, 2020 03:56 PM Central
Sherma Cundall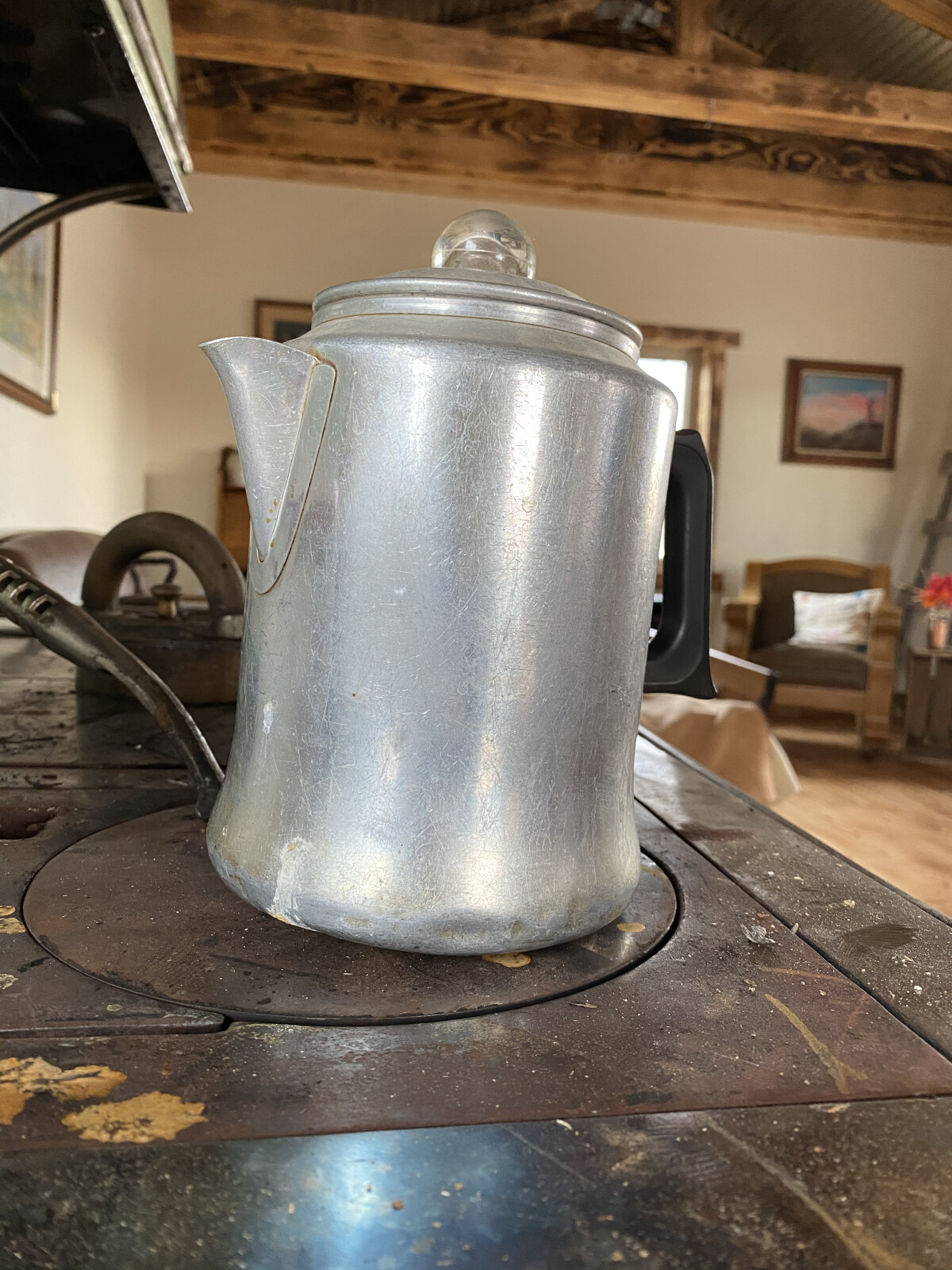 THE COFFEE POT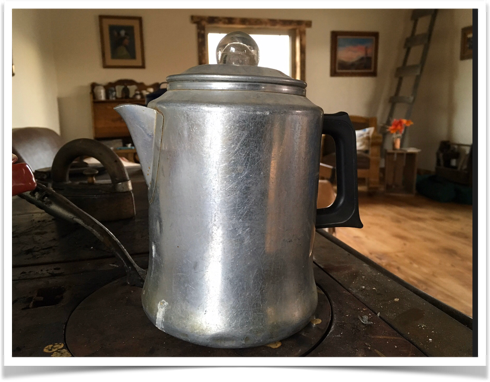 I'm Sherma Cundall, and I'm old fashioned because I want to be! I enjoy sharing my old fashioned things with you, just in case you might be interested in being old fashioned too.
This old tin coffee pot belonged to my mother. I'm not sure how old she was when she got it, but I know she had it when she started teaching school at the age of 18, in a one room school on the southern Colorado plains a long way from anywhere. When Mom passed away a couple years ago at age 90 the coffee pot became my treasure. It brings with it so may stories and memories…family, friends, neighbors, pie, cinnamon rolls, conversation and laughter!
Making coffee in this pot brings with it an experience…the aroma of the grinding beans, listening to the musical sound of it perking on the wood stove as the fragrance penetrates the air and family and friends sit around the table chatting about the day ahead. As a little girl I loved watching the coffee as it bubbled up in the glass dome on top.
That first cup, such a simple thing, yet an experience that created moments to be treasured. It was such an everyday thing back then, and yet, while we still enjoy our cuppa Joe…something very valuable is missing…
How did we get from the pot to the pod? How we get from the simple, slow paced lifestyle of yesterday to the rat race we live in today?
I'd like you to wonder about that, as you plop your coffee pod in the Keurig, slide your go cup under the drip, punch the button, and in a few seconds, grab it and head out the door to deal with the stresses of your fast paced day.
I challenge you to be a little old fashioned today… slow down, take time to smell the coffee and most of all, enjoy the experience!
Want to be the first to know when I share news from the homestead?
Jan 24, 2020 05:13 PM Central
Sherma Cundall
THE MAILBOX!
It has been a constant in my life, always there, always waiting….
I wonder how many miles I've walked…to the mailbox and back.
6 days a week, 52 weeks every year for so many years. I'm not sure how old I was when I started watching for the mailman, with such anticipation, wondering what he would bring that day. My first memory is of The Little Golden Books, then the Funny Books (My brothers and I loved Donald Duck) they came once a month, like clock work. We raced to the mailbox…the fastest one got to read it first.
Mom let me join a book club when I was 11 or 12! Every month I got a new book…I still treasure those stories (Ride Like An Indian, David and the Phoenix) …they wait patiently in my bookcase for some other kid to treasure them.
And the local weekly newspaper, the only way we knew what was happening in town, 25 miles away. And letters - oh how I loved to write them, then run to the mailbox and pop up that little red flag! And I treasured the letters from PenPals, aunts and uncles. My parents didn't have a phone until years after I was married and gone from home and we didn't have TV so that mailbox was our main connection to the outside world. I still have some of the letters…the one telling us that my aunt had passed away all the way down in Louisiana, and the ones from my Wyoming uncle…return address, Dwyer, Wyoming…which would one day be my address! Every few days during my 4 years of college I wrote home and mom saved all those letters, sometimes 5 or 6 pages on college rule notebook paper! A few nights ago I read some of them to my granddaughters! Of course I skimmed through them first, before I read them out loud!
This mailbox, on the Southern Colorado Plains where I grew up, is just a decoration now…waiting, always waiting….the fancy new fangled boxes are at the highway, 10 miles closer to town. The mail only comes 3 times a week and you better not forget your key or you won't know what's locked up in that cubby hole with no personality until you make another trip to town.
I wonder how much longer we will have rural mail delivery. I'm grateful, I still have a mailbox and I walk to it 6 days a week…rain or shine, snow or ice, even wind…I just HAVE to know what the mailman stuck in there!
I challenge you to be a little old fashioned today.
Write a letter to someone you care about.
I guarantee that letter will make their day!
And just for fun, add a drop of Stress Away, or Peace and Calming on the envelop.
You'll make everyone happy all the way from your mailbox to theirs!
Want to be the first to know when I share news from the homestead?